Equalize the treatment of HIV – World AIDS Day 2022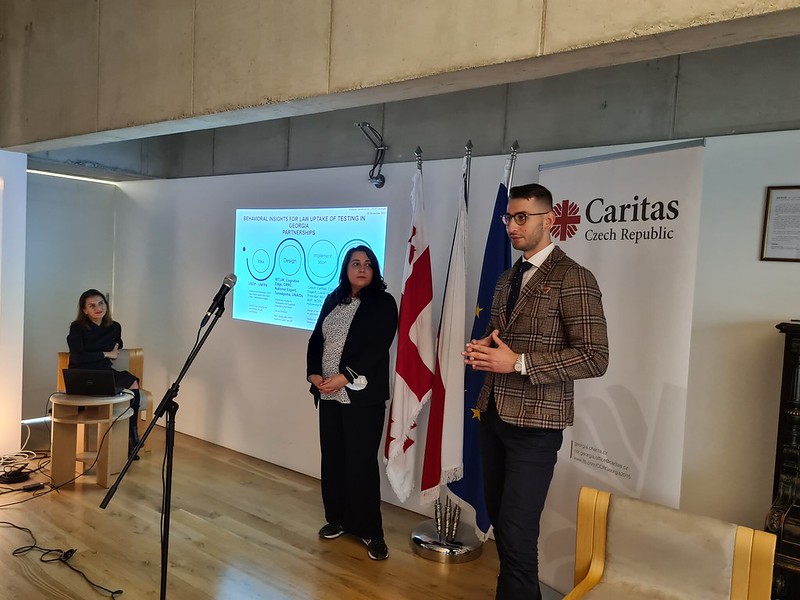 World AIDS Day is observed annually on December 1. This is to remember all the people who are living with HIV, but also those who passed away from an AIDS-related illness.
This year´s theme is "Equalize". It is a call to action to address disparities in aid in the eradication of AIDS. As UNDP Administrator Achim Steiner remarked in his statement for 2022 World AIDS Day, COVID-19 pandemic stopped the progress in prevention and treatment of HIV. At present, one person dies every minute from AIDS and HIV infections are even raising in some regions.
To ensure that everyone receives a good care, it is necessary to increase the availability and quality of services for HIV treatment, testing, and prevention. It is equally important to raise awareness and combat the prejudice and isolation suffered by people who are HIV-positive.
In Georgia, there is a strong stigma surrounding HIV diagnosis, with key associations with LGBT and drug using community. Because of this, it is difficult for people in the risk group to decide on HIV testing, which, in turn, increases the number of infected people who do not know about their HIV-positive status.
The project was a continuation of a joint innovative initiative of UNFPA and UNDP about the key hindering factors for low uptake of HIV testing through a Behavioural Insights (BI) prism. The underlying objective of the project was to search ways to increase the uptake of HIV testing among young population (20-34) in Georgia through the transfer of Czech expertise in evidence-based policymaking and piloting behavioural data-based solutions.
Only estimated 36% of people living with HIV in Georgia are aware of their HIV-positive status, which leaves a risk of the rapid spread of infection in the near future. That is why a project "Behavioral insights for low uptake of HIV testing in Georgia" was supported through Challenge Fund modality within Czech-UNDP Partnership for SDGs with the financial support of Czech MFA. Project was released in the fall 2021 and concluded in November 2022 when the randomized control trial results were presented to the key stakeholders and broader audience at the Czech Embassy in Tbilisi.
What we learned in this project
The project implementation team ran three randomized control trials (RTC). The first randomized control trial started on May 11, 2021, however in mid-July only 11 self-tests were ordered. Clearly, something was not going well since the first RTC reached over 47908 users including 17% of the population of interest.
People were seeing Facebook posts containing 4 different types of messages:
Control message – informed participants of a simple and free means of obtaining an HIV self-test
Treatment message 1 – attempted to assuage participants of the fear of a positive result
Treatment message 2 – focused on confidentiality
Message 3 – included an additional message that attempted to encourage participants to order an HIV self-test by promising to include them in a raffle for an iPhone 13 if they ordered an HIV self-test
The second planned RCT again reached to over 38 thousand people and 14% of the population of interest, but the orders of tests were still very low.
To achieve higher orders it was proposed to minimize the barriers including limiting information needed to provide the participants with HIV self-test and lifting the registration requirement. The team reworked the website, simplified the ordering process and placed emphasis on pro-active approach to confidentiality and the raffle for a valuable price. As a result of changes, 71 self-test were ordered showing a tremendous increase in statistics.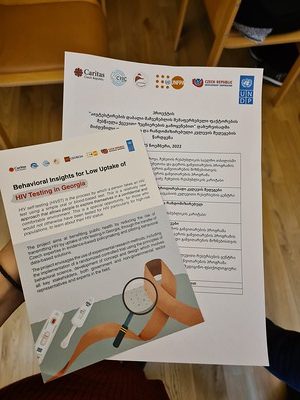 The recommended steps, based on the three RTCs and changes done in between, are
To consider providing HIV self-test to people outside of the young key populations.
To consider providing these self-tests in a manner which increases the confidentiality of the process, and promote the measures used to increase confidentiality.
Consider running a regular raffle of a desirable item to encourage wide-scale participation in HIV self-testing programs.
Importantly, the final overall cost of the intervention is relatively low. In comparison, similar interventions for self-testing range from 2 to 50 USD per test. Even when considering the cost of the iPhone and advertising, the price in Georgia stayed at the lower part of this scale.
The HIV self-testing (HIVST) is a way forward to defeat the illness and it has received global recognition as an alternate method to HIV testing. The results of RCT were published in Open Caucasus Media. The podcast on the RCT results is available on the Open Caucasus Media webpage and all project outcomes will be published at Behavioral insights for low uptake of HIV testing in Georgia – CUP (undp.cz).
The Challenge Fund project Behavioral insights for low uptake of HIV testing in Georgia is implemented by UNDP with the financial support of the Ministry of Foreign Affairs of the Czech Republic.