Plan your trip to Moldova in 2023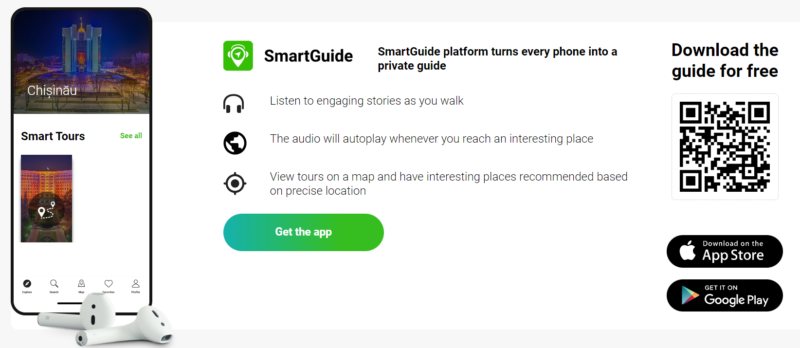 Invest Moldova Agency launched in 2021 the campaign Moldova: a place to find yourself. The main objective of the campaign is to help the country keep up with new global trend, using modern tools, repositioning itself on the global market and proving its relevance as a tourist destination. Czech company Smart Guide supports this effort by providing a modern digital solution, education of the partners in the travel industry and their experience from the global market.
The ready-made Smart Guide platform enables tourist attractions, destinations and travel agencies to publish digital travel guides in days, with minimum budget and with much better quality and adoption.
Today we talk with Ms Claudie Maříková a project manager from Smart Guide to share her experience from Moldova (with a support of Invest Moldova Agency that answered the detailed questions on Moldovan tourism).
Smart Guide is an experienced project innovator – you implemented a project in Bosnia and Herzegovina previously. Now you are working on a new project in Moldova. What are the biggest differences for project implementation in these two countries?
In Bosnia, we implemented the digital solution for the national park, whilst in Moldova, we digitized the whole country. For that, we needed to develop a regional function within the application, which would enable us to create routes in the whole region, not only within one destination. We work with different partners on different levels, from the national level to individual destinations and attractions, in a country that none of our team has visited yet.
Could you briefly introduce your project in Moldova and how it differs from your previous project?
As mentioned before, the project covers the whole country. We have started to digitize the capital city Chisinau, Edinet, Gaguzia, Soroca District, Route of Wooden Churches and Stephen the Great Route. We have organized a big online session of representatives from the whole country, destinations, culture and historical sights, where we presented our solution and train them in creating their own digital content and audio tours, now the partners are creating with the support of our team. Sometimes we need to work with a translator, but this is manageable.
Who is your local partner and how did you manage to find them? How was the cooperation with them so far?
Our local partner is Invest Moldova Agency, which is the highest-level tourist organization in the country. When we searched for the partners, we looked first for the contacts in Ministry of Culture and national tourist boards, and Invest Moldova team was very interested, proactive, and we agreed very quickly. That is why the cooperation is going well and we are proceeding as planned.
Where does Moldova's potential for tourism come from?
Tourists should consider discovering Moldova for its rich culture, beautiful countryside, authentic experiences, and affordable prices. It's a destination that offers a unique and off-the-beaten-path travel experience that's sure to be memorable.
In Moldova, fruits and vegetables have a special taste, wines contain a bouquet of flavors from over 50 varieties, winning 926 medals at international competitions in 2022. Hiking through centuries-old forests, exploring Moldova by kayak, sailing on the Dniester and Prut rivers, photo sessions in lavender fields, sleeping in a barrel, running through the longest underground wine galleries, climbing caves, the experience of witnessing the "gathering" of thousands of pelicans on Lake Beleu, visits to rock monasteries – will bring charm to any chosen tourist itinerary.
What are some of the best sights that every tourist should see in Moldova?
Arriving in the Republic of Moldova, you can't help but visit the famous wineries included in the "The Wine Road of Moldova". Here you can try the role of a sommelier, having the opportunity to taste noble and intense wines, as well as artisanal wines, unique in their aromas and character.
From traditional dishes to haute cuisine delights, all can be found in the Republic of Moldova. In Chisinau, restaurants offer varied gastronomic experiences, with menus that can satisfy the tastes of the most demanding gourmets. In the province, traditional dishes are at the forefront. "Mămăliga", sarmales, cheeses and baked vegetables can be enjoyed in a rustic setting, which will conquer you with its beauty and authenticity.
The Republic of Moldova delights its visitors with its rich history and intact nature. Grota Duruitoarea Veche, formed a few million years ago in a reef of the Sarmatian Sea and the breathtaking landscapes will make you feel as if you are on the set of the production of "Lord of the Rings", as well as the medieval rock monasteries, dug into the rocks at Old Orhei, Tipova and Saharna. Moldova is one of the few countries in Europe where people still live according to the slow life concept, preferring a simple, quiet life that involves sustainable agricultural practices and helps you escape from the hyperactive world, offering you moments of complete relaxation.
Adventure-seeking visitors can choose from a kayaking trip, hiking through forests or cycling trails. If you are looking for a unique experience, you can participate in a marathon in the Cricova or Mileștii Mici underground wineries, which are over 120 and 200 km long, respectively.
How many foreign tourists visit Moldova each year? How does Smart Guide contribute to promotion of tourism?
In 2022, the number of foreign citizens who visited the Republic of Moldova through travel agencies increased by 20.8% compared to the previous year and they constituted 29 thousand tourists and hikers. Among the top five countries that have visited the Republic of Moldova are: Romania, Ukraine, Italy, USA and France.
The number of foreigners who decide to visit Moldova is growing but it is still far from the potential once held by 300 thousand tourists who visited the country every year.
The tourism sector in the Republic of Moldova is still developing some of the cornerstones for sustainable development of tourism, the most pronounced being the following. 1. Insufficient support, including from the state, for the tourism industry; 2. Low added value of the tourist product; 3. The insignificant impact of tourism on local communities.
For the Republic of Moldova, cooperation with Smart Guide is a unique opportunity to promote ourselves on an international platform where there are over 700,000 thousand users of the application. Thanks to which the Republic of Moldova will become more visible in the online environment as an attractive tourist destination.
As a Czech Republic-based company, how do you handle the language barrier?
Our team is multi-lingual, but the Romanian language is not one of them. But since we work with international student interns, we found a group of Moldovan students of tourismstudying in Romania, which were very excited to help with the project for their country.
How do you plan to ensure that the SmartGuide app will be widely used by tourists? What is your promotion plan?
Our promotion plan starts with a launch during ITB Berlin, one of the biggest European travel fairs. SmartGuide QR code will be a part of the Moldova stand and accompanying material. The QR codes opening the Moldovian tours will also be part of the promotion leaflets to tourists, which are now printed and distributed in the info centers. The application will be linked to the websites and shared on the multimedia screen in info centers. We are also meeting the Air Moldova Team. New direct flights started operatingfrom Prague, and our content and travel tips should be cross-promoted.
What is the ideal impact of the project for you?
We learned about the specific attractions, landmarks, and cultural experiences that Moldova has to offer, as well as the needs and preferences of different types of tourists. We have got inspired by places and culture. Additionally, we have gained insights into the challenges and opportunities associated with promoting tourism in a developing country, such as the need to balance economic development with environmental sustainability and cultural preservation.
What would be your advice to anybody who is considering applying for Challenge Fund in Moldova?
Make sure your project proposal clearly explains how your idea is different from existing approaches and how it could lead to new or improved outcomes and make a positive impact in the country.
About the Czech-UNDP Partnership for SDGs
The partnership of the Czech Republic and UNDP supports innovative solutions from the private sector of the Czech Republic, non-governmental organizations, universities, state institutions, research centers and individuals for solving specific development challenges in priority countries (Bosnia and Herzegovina, Georgia, Moldova, Ethiopia, Cambodia, Zambia). The implementation of projects and expertise is financially supported by the Ministry of Foreign Affairs of the Czech Republic.

All photos were provided by Smart Guide