Skate World Better in Ethiopia and Zambia – International Day of Sport for Development and Peace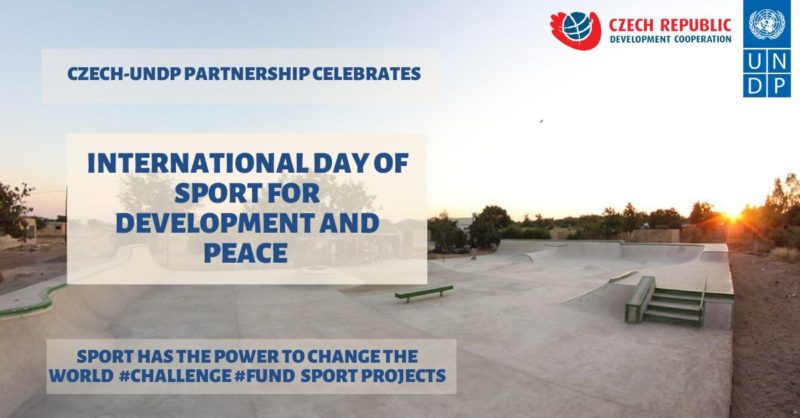 The International Day of Sport for Development and Peace (IDSDP), which takes place annually on 6 April, presents an opportunity to recognize the positive role sport and physical activity play in communities and in people's lives across the globe.
Sport has the power to change the world; it is a fundamental right and a powerful tool to strengthen social ties and promote sustainable development and peace, as well as solidarity and respect for all.
The global theme for the International Day of Sport for Development and Peace 2023 is "Scoring for People and the Planet".
Today we introduce Martin Loužecký, founder of Skate World Better a non-profit organization building skateparks around Africa. Their mission is to support kids and young adults in Africa through skateboarding. They implemented a project through Challenge Fund in Zambia and this year they support Ethiopian Girl Skaters in Addis Ababa.
Could you please tell us about Skate World Better, how it started and what´s its mission?
Skate World Better is a non-profit organization founded in 2019 in Copenhagen, Denmark. The original idea was to carry out one construction of a skatepark in an African country for experience purposes during our studies at the University of Copenhagen. This project was examined and written about in our MA theses and to our surprise we had such a great success, that we decided to continue with our activity and we took it far more seriously from then. As of now, we have moved the organization to the Czech Republic, where it is currently established. It consists of many professionals spread throughout Europe, which gives us an enormous reach and an advantage. Our first project, that took place in Maputo, Mozambique was followed by a project in Mongu, Zambia supported by the Challenge fund. Our intention is to continue with the activity, build more skateparks / youth centers on the African continent and minister to a healthy development of the youth.
You have implemented many skate park projects abroad. Could you describe how sport and particularly skate centers promote development and peace?
We use skateboarding as a tool to bring people together and create a safe space where kids can learn and play. We always work with a partner organization from local grounds that sustains the skatepark after we leave and runs a variety of activities. Skateboarding is a unique discipline, where joint effort and mutual respect is fostered rather than competitiveness. Further, skateboarding is an unstructured activity where people of all body types, ages, genders, and backgrounds can feel welcome. Practicing the sport provides the youth with the opportunity of creating real organic friendships that transcend nationality, class, religion and cultural background. Skateboarding teaches you that in order to succeed – you have to fail. You have to push yourself into the unknown and to the limit of your capabilities in order to one day master something. If you skateboard on a regular basis, you learn a lot about life, about self-development, self-discipline and creativity. There is no better way to obtain that than through having fun with your friends. In other words, the kids grow up together doing something they enjoy and support each other while doing it, which we believe will have a positive impact on the later adult society.
Your first Challenge Fund project was in Zambia. How was your experience there with the project implementation and how does the skate park continue working after the project has finished?
After finishing two skateparks in Mozambique, one in the city of Maputo and the other at the suburbs, we applied to the Challenge Fund 2021. Having obtained the fund, we later managed to complete our so far biggest project, in Mongu, Zambia. The Mongu project was much different to the Mozambican one. The material was different and harder to find, but the people were equally, if not even more helpful than Mozambicans. Overall, we have a very very positive experience with nearly all the people who we ever worked with on the African continent. In Zambia, our local contact was Johnny, who provided us with strong support and advices. Without his contacts the project would have taken far longer. Johnny is still responsible for the everyday run of the Lukaba Hande skatepark, which is a name that the space was given. Lukaba Hande meaning "it will be all good". I find that a perfect term. Thanks to the social media and internet in general we are in a very close touch with both, Mozambican and Zambian community. On top of that we constantly foster new relationships and an international network, having contacts in Eswatini, Lesotho, Zimbabwe, Namibia, Uganda, Ethiopia and many other African countires. All the skateparks we built are still fully working, with people enjoying them on a daily basis. The Lukaba Hande skatepark is hosting lessons and educational seminars. Bigger events including skate competitions are hosted irregularly, but with a lot of good effort of the local community and even the community of Uganda that has been helpful in many ways throughout the process.
Was local youth involved in the process of building the skate park?
The youth is not involved in the construction up until the very end when it comes to decoration and coloring. The reason is simple. First of all, the craft is actually very specific and difficult and given the timeframe we have due to visa reasons and due to the fact that every volunteer only has a limited amount of personal time without having to work and making money, we bring professionals from around the world to build it quick, but very good. Secondly, it is a build site which gets dangerous from time to time for rebar sticking out of the ground and irregular surfaces in general. We keep the kids around us, constantly playing and chatting, but we try to make it safe for everybody. Once we are gone we let the kids do as they want, it is their park after all. We always bring equipment and so we do workshops on it, on skateboarding and we definitely share more than just the concrete. On the other hand, there is so many younger guys, perhaps little older than 15 who do runners and can help with a million small tasks, so in terms of willingness, everyone wants to bring some help towards the process. Without Johnny and his friends and family it would be impossible for us to manage the whole project with such a grace, but if we speak solely about the actual construction, that was done by the people who do it professionally in Europe, USA or Japan. As much as it is a cliché, the most helpful from the side of those children was the fact that they really showed us how much excited they are and how much they are looking forward to having a park and a bunch of boards.
What is the main motivation for local partners/local people to join the project?
The main motivation is very simple. These parts of Africa, such as the Western Province of Zambia are very poor in having public hubs, parks, sportive facilities that anything new is generally very welcome. Local people were excited about new opportunities and I believe that is the most natural motivation for joining in. Our main partner, Johnny runs an organization called We Skate Mongu. Their goal is simply to offer some extracurricular activities to the youth in the city. Their effort is obviously also beneficial to them, to people like Johnny, who can now enjoy the skatepark himself.
Currently, you implement a project in Ethiopia. Could you please explain how it is different from the project in Zambia?
The project in Ethiopia is planned to be much smaller due to various reasons. Zambia is considerably cheaper thus we could deliver a fairly big skatepark, also the location is much easier to navigate in, so we felt rather comfortable having almost 30 volunteers helping out. In Ethiopia, our project will take place in Addis Ababa and will be definitely more challenging therefore we chose to take a smaller and more compact team with us. We aim to pick very experienced guys and focus mostly on our part as we are really taking many steps to choose the good local partner in this project, who will immediately implement a working scheme right after we leave. In Zambia we were able to stay longer, also due to the extent of the skatepark and thus we were negotiating and developing the future running scheme together with We Skate Mongu. This time we simply want to give even more space to the local leaders and focus on a professional construction with a focus on detail and maximal multifunctionality.
You have traveled to many African countries, how is Ethiopia different?
Ethiopia is very different from the other places in Africa where I've traveled. It is very wild and very populous, probably more than the other places I've seen. I really enjoyed the Ethiopian cuisine and traditions, there are some real perks. Addis Ababa is a huge city, having a really cosmopolitan vibe to it. The coffee tradition is naturally outstanding. I have to admit, the country is little complicated to navigate and it feels little different implementing our project there. However, feeling like that makes it even more necessary for us to complete our mission and bring a bit of natural happiness and relax that skateboarding ultimately embodies.
What is the best part/biggest advantage for you to implement project within the Challenge Fund?
The best part is the openness of the fund. Given the name, I am glad that the Challenge Fund grant is set up so that it is very flexible, plastic and adaptable. It is very difficult to be focusing on a fairly hard project to carry out and make sure all communication and reporting and money statements are in order. I really appreciate the fund and the project leaders or rather supervisors to be very easy to communicate with and above all generally helpful in all matters. It is also very crucial in our particular case that we are able to receive share of the money in advance and be given the rest in parts upon milestones achieved. I find this system easy and manageable, allowing us to do our projects with a greater focus on the actual performance, without having much of a financial stress.
What would be your advice to anybody who is considering applying for Challenge Fund in Ethiopia/Zambia?
My main advice to anybody attempting to do a project of any sort in a developing nation is a thorough preparation. First an idea map is necessary, and it is worth it to spend a lot of time thinking before starting to act. There is no need to rush for great ideas to be formed into perfect execution. After that I think it is crucial to do a bit of researching and ideally paying a visit to Ethiopia and Zambia in this case. A physical visit will provide a much clearer idea on how things are actually going and what to expect. Once having a clear idea, believing in the innovation that this idea will bring and having a clear plan of execution and strong local partners, just go for it! Good intentions will always do it!
About the Czech-UNDP Partnership for SDGs
The partnership of the Czech Republic and UNDP supports innovative solutions from the private sector of the Czech Republic, non-governmental organizations, universities, state institutions, research centers and individuals for solving specific development challenges in priority countries (Bosnia and Herzegovina, Georgia, Moldova, Ethiopia, Cambodia, Zambia). The implementation of projects and expertise is financially supported by the Ministry of Foreign Affairs of the Czech Republic.