Empowering women through providing access to clean technologies of drying crops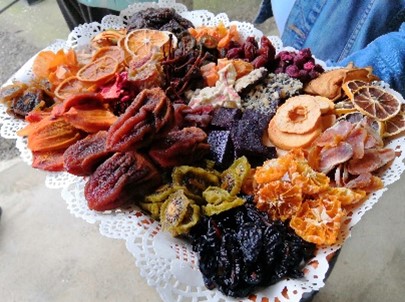 International Women´s Day 2021 might be over, but Czech-UNDP Partnership for SDGs and its Challenge Fund component continuously strives to support women´s empowerment and equality.
One of the projects working on gender equality is the initiative of the NGO CARE Czech Republic "Introducing the Model of Hybrid Solar Driers for Fruits, Vegetables, Herbs and NTFPs", which is implemented in Georgia. The project creates a solution for the rural population by reducing dependence on conventional energy sources, improves their living conditions, increases agricultural output, and provides green economic opportunities. The specific objective of the project is to employ new-age clean solar dehydration technology and create necessary backward and forward linkages in enabling small women farmers in Georgia to dry and sell value-added agricultural and non-timber products. The project targets particularly women entrepreneurs embedded in the dried and processed food value chain through effectively leveraging clean technology. This has many advantages: women's access to dehydrated food products round the year strengthens household's food security resulting in positive nutritional outcomes for women and girls and allows women to gain control over available resources. Furthermore, the technology reduces post-harvest loses, increases household and farm-level incomes, and offers guaranteed markets. Women and youth are important impact groups within the target project beneficiaries, with 60% of the project participants being women. The project directly stimulates to increase women participation in the use of new technologies to generate an income. At the same time, the technology and result of its use simultaneously increase the transfer of knowledge and decision-making capacity among rural women in Georgia.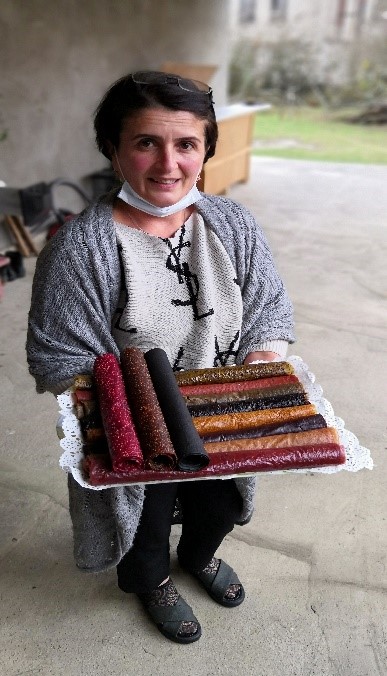 Eka Khutkubia is one of the project participants that lives in the village of Darcheli in Samegrelo Zemo Svaneti Region. She owns a small plot of land 1500m2 where she cultivates corn, beans, cabbage, tomatoes and other vegetables with the support of the children. But unfavourable conditions for agriculture such as droughts, land erosion, lack of agricultural tools, quality seeds and no financial resources for their purchase created additional problems in farming for poor women like Eka. Therefore, yields derived from agricultural activities werre hardly enough to feed the children. Due to the COVID-19 pandemic lockdown period, she was not allowed to sell their products at the street markets. At the meeting organized by the project team, Eka saw a big potential in benefiting from Hybrid Solar Dryer to generate more incomes and sustain livelihood compared to traditional methods of drying. "I would usually lay my products on the trays in the open to wait for the products to dry. My products were exposed to dust, polluted air, and insects and sometimes damaged. Unexpected rain and wind also contributed to the loss of some of my products." The project donated a solar dryer to Eka to support her vision for an empowered future and to learn from her experience to maximize future impact. "These solar dryers are simple yet effective, protecting products from harmful direct sunlight, wind, rain, pollutants, dust, and bacteria/fungus growth. I no longer need to guard the products and chase animals away. They also reduce drying times by about 50% and retain nutrients more effectively when compared with traditional sun drying," describes Eka. "I am very optimistic about the benefits of the dryer as I can produce good quality dried fruits and vegetables and sell them at good prices, thus generating additional incomes for my family. Many households in my community and beyond have already expressed the willingness to follow my case." Lia Mukhashavria is another project beneficiary from the town Lanchkhuti of the Guria region. She is the head of a women cooperative that is engaged in the cultivation and drying of hazelnuts. Lia is actively involved in the project. "Members of our cooperative that are mostly women see a good opportunity for increasing employment and income generation opportunities. The practical training on maintenance and operation of the dryer and drying technologies are good preconditions for producing quality products and selling them at the local and international market year-round, which creates new economic opportunities and improves livelihoods, health, and safety for our members and others linked with cooperative activities."
"Through the project, I have learnt a lot about the solar drying systems and other devices, and I can show and explain to other villagers how to construct solar fruit and vegetable dryers, how to dry fruits and vegetables and get incomes from sales of dried products," says Lia.
The project aims to reduce poverty in rural communities by implementing renewable and affordable technology to lessen environmental degradation, increase agricultural output and provide economic opportunity to the wider population. In each community, learning about renewable energy technologies, livelihood and sustainable rural development is crucial for the further development of rural communities.