Part II: Advancing women menstrual health in Cambodia: Local microbusinesses for environmental and societal change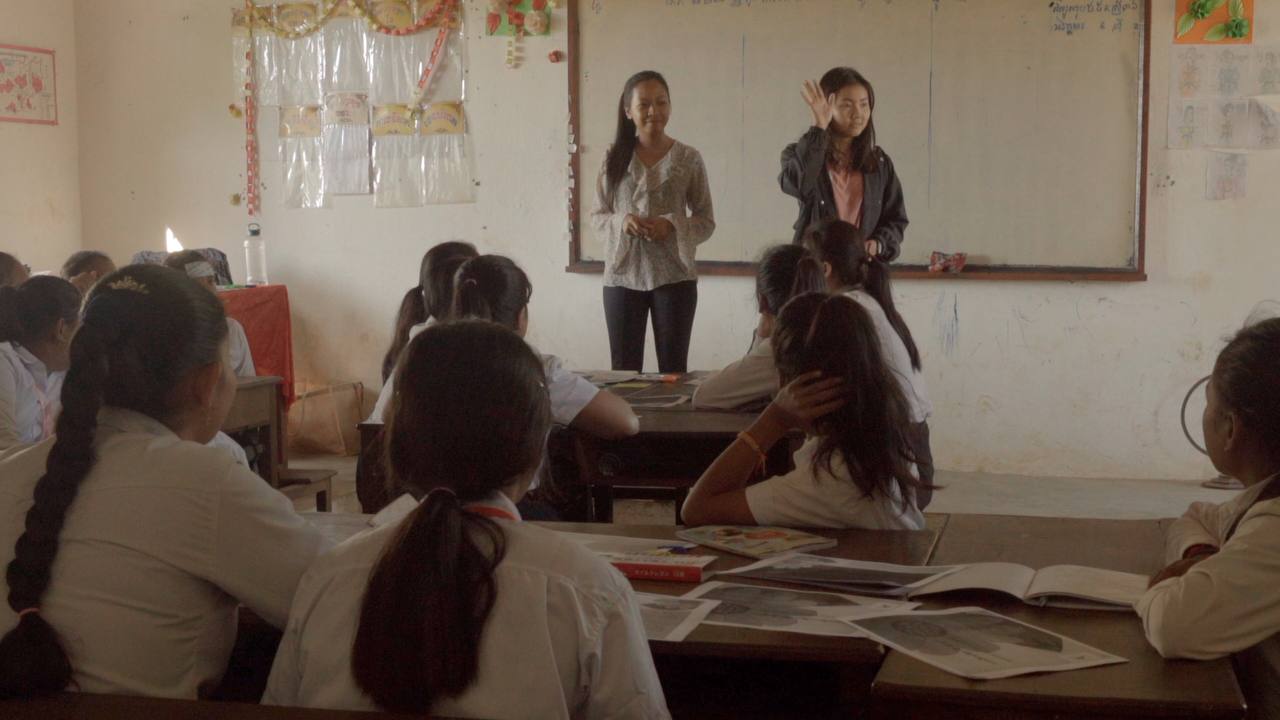 Cambodia is one of the countries where the topic of menstruation often remains taboo and women and girls struggle to find appropriate menstrual products corresponding to their needs, local context and health requirements.
One of the Czech Challenge Fund projects of an NGO Diaconia CCB CRD is trying to change the situation by the introduction of small businesses for reusable pad making, which should offer environmentally and financially friendly hygienic options while providing local seamstresses with new means of income.
In an interview below with Sovanvotey Hok, a local partner of Diaconia and a manager of Green Lady Cambodia initiative, you can read more about the situation regarding menstrual health as well as challenges they had to overcome on the way to sustainable and greener reusable pad business.
1.When and how did you start with business in reusable pad making?
I started as a small project in Feb 2017 winning a small fund from the YSEALI grant and then in May 2019 decided to make it a social enterprise to sustain the project. The first time that I got to know about the Washable Pads is when I joined the Eco-Village Design Education at Gaia Ashram in Norng Kai, Thailand and one of the facilitators introduced Washable Pads from Eco@Femme a social enterprise in Eroville, India. We now regularly keep in contact with Eco@Femme, who helped us tremendously especially in the beginning before we developed our pads. Thanks to them, the introduction of the washable pads to Cambodia was less of a struggle.
2. What do you see as the biggest issues in menstrual health management in Cambodia?
There are many "plastic" disposable sanitary pads brand choices, but less when it comes to other menstrual products choices. That is tricky- only a small amount of women knows tampons, not even to mention menstrual cups. The choice in menstrual hygiene products is therefore extremely limited and it forces women to end up using things that their skin might be allergic to and which they would not use at all if they had more choices.
Menstruation topic is not widely talked about in the family, girls struggle to manage their hygiene and sanitation because they have no one to guide them through it. This lack of knowledge has consequences in their daily life, including their education.
Disposable sanitary pads in Cambodia can cause complications and problems since they are of less quality. Its usage can result in diseases and become a silent killer to some women. It has been proved that the chemicals can kill at some point, including tampons, but it is not widely believed and still causes doubt to the consumers.
Disposable sanitary pads are a source of significant waste as well, disposed of in the landfills. Changing the habit and switching to reusable options will help not only to reduce the consumption and its waste but also will improve the health of local women.
3. What is your technology, know-how based on? How do you see the challenges with material selection, availability at the Cambodian market? What prototypes of pads have you developed? And how did you come eventually to the types of pads you offer right now?
All our products are handmade. So far, we have come across various challenges in the design of the pads, when we had to make sure they fit the local general size of the underwear and monthly needs. The biggest struggle is to find the material for the pad making. At the market, the materials are usually not of good quality, they are fragile and not sustainable. The materials are mostly imported and sellers do not possess sufficient knowledge about the fabrics. You never know when it might be damaged. Unfortunately, there is not much encouragement or creativity in making our local materials as they are expensive and most of them are not Cambodian owned either.
We do whatever we can to find on the market material that we can use for the pads, and we collect pad material from different places as well to compare various options such as bamboo, cotton, krama, towel and many others.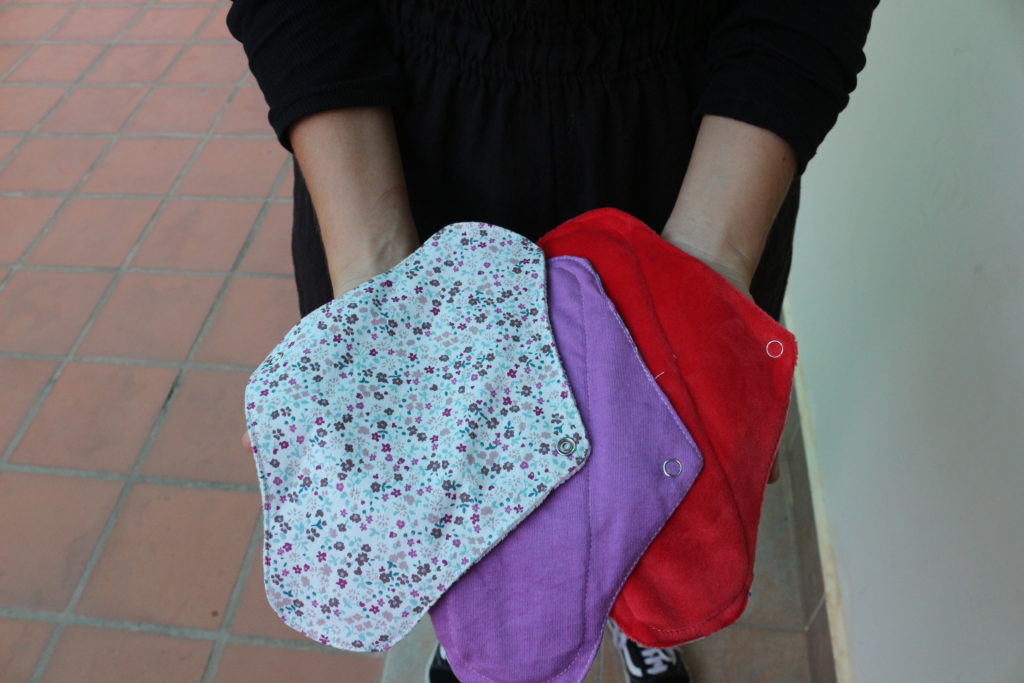 Our model right now is made from locally made cotton, "the healthiest" material we could find in Cambodia. When making a pad, we take into consideration the thickness of the Cotton and PUL fabric. Since we have been through many fabrics and shops at the time, we understand whether it fits the local conditions and is comfortable. In cotton, we seek the best quality, and we have managed to find one locally made with natural colours. We cannot compromise on this material as it directly touches the skin. The availability of cotton is however seasonal, so we have to change to alternative fabrics at the time. The rest of the pad is easy as the most important part is the outside part and its fabric which must match the customer preference. We had to compromise in terms of the environment by including the PUL fabric which is leakproof, especially for first-time users since it gives comfort and security. The more experienced users may jump to cotton only pads or they will eventually change to menstrual cups. The PUL we use in our pads is thin, but strong and can be used for years. It was a challenge to find PUL fabric on Cambodian Market because nobody knows what it is or does not use it for any reason at all. Before finding PUL fabric, the only one we could find was the fabric used for making a tent or umbrella, which look similar but the quality and the endurance is different and it is not as comfortable because of the weather in Cambodia.
4. What is your marketing strategy? How does your product help to empower local women?
We do not focus on extensive marketing like other business companies. We aim to provide positive changes for girls and women. Therefore, we do travel to different schools for menstruation class and run a website so that people get updates on our work. People know us from social media and news and can therefore easily understand our values and where their money goes after they purchase the pads. We also do awareness-raising around the topics- one of the components of the programme is sexual and reproductive health, well-being and equality.
I think that this strategy has proven the most effective for our Sewing Lady's community. By now, consumers know that disposable sanitary pads are not the only option and they can spend their money and life differently, with their living standard being improved. Moreover, thanks to our initiative, we are helping two local families to increase their monthly income.
5. What motivated you to partner with DECCB and LWD to take part in this project?
The project concept matches our values. It is our dream to see local women earn a bit more with their creativities and at the same time change their period health by using washable pads instead of the plastic sanitary ones. Once the community sees that something is possible, they become more open-minded. It needs time, persistence and patience to show that our idea works.
We also go to schools to train educators to facilitate the classes on menstrual and reproductive health. This part of work is not just technical- we need Cambodian teachers to be able to speak about menstruation and connect with them sensitively and understandably, which takes into account their background and the local context. Through experience, we do not aim for classes to be technically perfect, but educators being skilled to interact with students with respect, to see their emotions, know their feelings and finally make sure they understand the message and support them through their growth journey. Even though the school curricula include menstruation already or will be added later in 2022, it won't easy without empowered educators and an open mind discussion in the classroom.