Part I: Advancing women menstrual health in Cambodia: Local microbusinesses for environmental and societal change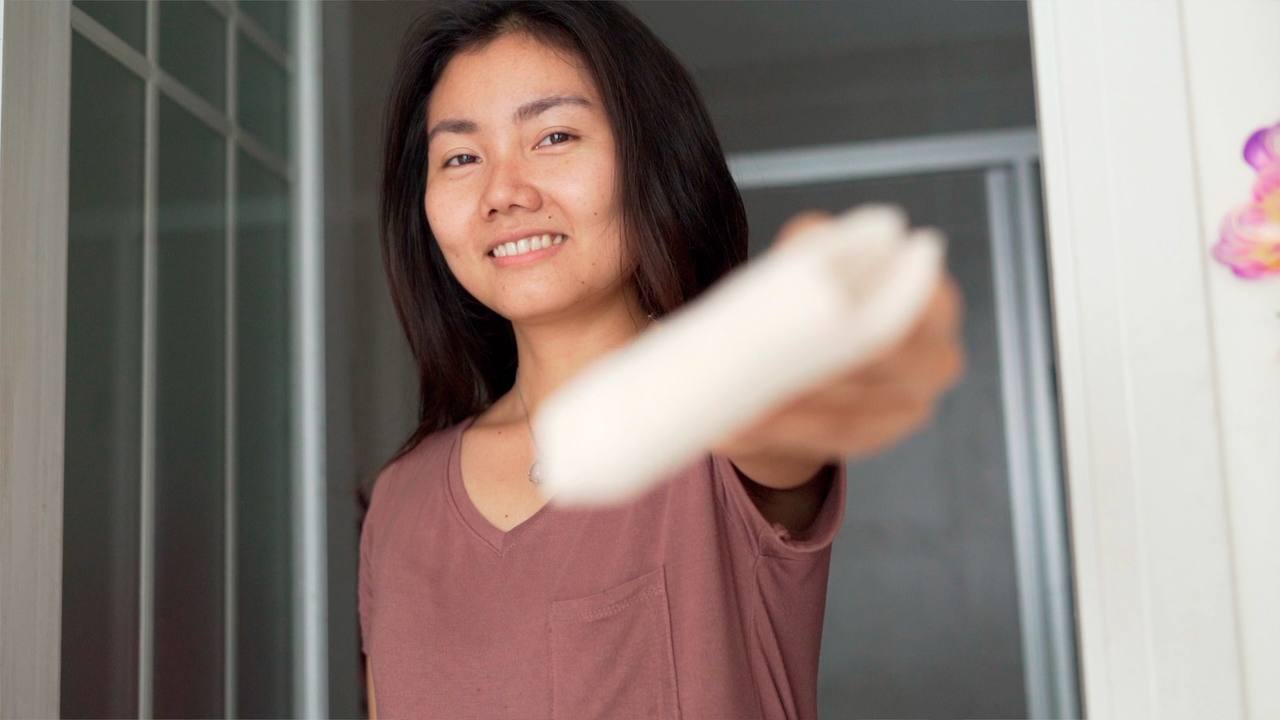 Menstruation is still a challenge for many women and girls in Cambodia and especially its rural areas. It causes friction in daily lives which is due to both the lack of affordable menstrual products in the market and also the lack of awareness at the institutional and private level, where period shaming is still prevalent and the topic remains taboo in society.
One of the projects that seek to change the situation is the initiative of the Czech non-profit organization Diaconia CCB CRD supported by the Challenge Fund, that aims to combine women´s economic empowerment with raising menstrual and reproductive health awareness in the Sammeaki Mean Chey and Tuek Phos districts of Kampong Chhnang Province by developing affordable, comfortable, and locally made reusable sanitary pads while providing local small women tailor businesses with work opportunities in their production.
As a part of the International Women´s Day series, you can read below the interview with the project coordinator Michaela Vacková, with the local perspective of Sovanvotey Hok, the representative of the local partner organisation Green Lady Cambodia, following next week.
1. What motivated you to develop a project with this topic?
Focusing on reusable menstrual products was a clear choice for me as soon as my teammates and I started talking about the possibility to apply for a grant from the Challenge Fund under the Czech-UNDP Partnership for SDGs. In Cambodia, where Diaconia has been active in the development sector since 2014, I have encountered several times during my working stay the lack of menstrual products on the market, their unsatisfactory quality and little awareness of menstrual and reproductive health and many taboos associated with it in the communities. I have been thinking about what women use if they don't have enough money to buy disposable products, and how they deal with everything during menstruation when they don't have a latrine at home or school that gives them privacy. From this came the idea not only to train seamstresses in the production of reusable pads but also to launch them on the local market by raising awareness of menstrual and reproductive health. It was important for us to have a chance to make these activities sustainable. Women and girls will understand the benefits of reusable pads, try them out, and at the same time know where they can get them. We decided to pilot these activities in two districts – Tuek Phos and Sameakki Mean Chey in Kampong Chhnang Province, where we are also working on another project funded by the Czech Development Agency for Water, Hygiene and Sanitation (WASH). Women's health is very closely linked to the availability of quality sanitation equipment, which we help build in schools and households in the region. All these activities are therefore designed to complement each other and go hand in hand.
2. How did you start to cooperate with your Czech Breberky.cz and subsequently with the local one- Green Lady Cambodia?
The cooperation between Breberky and Diaconia began after initial discussions and motivation of both sides to work on these topics in the Cambodian countryside. The connection with Breberky was essential for the design of the project when the company brought in the necessary technical and professional knowledge, helped to design the project and warned us what to look out for in particular. As part of the project, we planned that the Breberky.cz manager would fly to Cambodia to help us with the selection of fabrics, cuts and also with the training of three selected seamstresses. Unfortunately, due to the ongoing COVID-19 travel restrictions on arrivals in Cambodia, we could not make this happen. For this reason, we researched the Cambodian market and found a small local company with reusable pads – Green Lady Cambodia, run by young Miss Votey, and thus agreed to tripartite cooperation. We consult with the Breberky.cz in the Czech Republic about all steps regarding the production and the purchase of material. At the same time with Votey, we are addressing the local context and needs of local women, and thanks to her and her team, we can effectively carry on with the project.
3. At what stage is the project at this moment?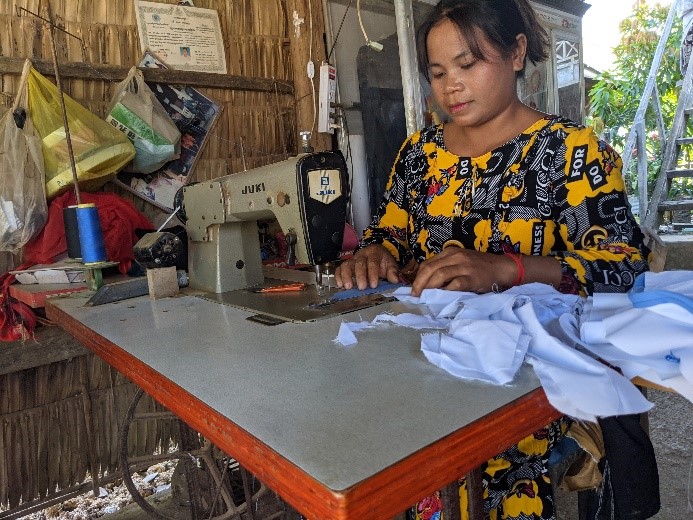 Currently, we are in the phase of purchasing new equipment and material for 3 selected seamstresses – sewing machines, sewing materials and fabrics, as well as organising training. We have encountered several challenges on the way- first of all, we need to find seamstresses who want to work on this project and further develop their business potential in this sector, which can prove complicated especially in the beginning. When selecting suitable candidates, we needed to make sure that these female entrepreneurs are located near larger markets, where they would sell their pads. Cambodia is a country of textile factories, yet it is not easy to get high-quality and absorbent fabrics. For example, cotton terry is a scarce commodity and can only be found at one or two suppliers in the capital Phnom Penh. Similarly, although a little better, there is cotton knitwear. In Cambodia, we have to communicate directly through shops, which do not want to share their contacts for larger supplies with us not to lose the possibility of earning. Although it would be easier to order fabrics from abroad, it goes against the principles of our project – we want everything to be available on the local market. We want to ensure quality materials, but at the same time affordable so that the resulting price is adequate and that women and girls in rural areas can afford them. For this reason, we cannot, for example, use locally produced cotton, since its price exceeds our expectations and its distribution is rather intended for the market in Phnom Penh. So achieving balance is a challenge.
In parallel with this process, we are planning one training of trainers for our employees and employees from the Cambodian Ministry of Health, the Ministry of Education and the Ministry of Regional Development, and one training for selected teachers and women from the target communities. These participants will then be able to navigate the areas of menstrual and reproductive health and able to approach these topics in communities and schools, talk about them and spread awareness. At the same time, we are actively selecting schools with students between 12 – 15 years and 15-18 years in their vicinity, where we plan to raise awareness through trained trainers, and where local girls will receive a package – with 3 L size pads, 2 M size pads, soap, a washcloth and 2 panties – all wrapped in a sealable bag for used pads. We are currently working on obtaining permission for these activities in schools from both the provincial education authority and the health service, so our project team is fully engaged at the moment.
4. Are there any COVID-19 restrictions in provinces that have influenced your work?
Cambodia has not yet seen a greater spread of COVID-19 in communities, but restrictions still exist and we must ensure that we comply with the measures, especially at a time of training and awareness-raising with an increased concentration of people, which our team always pays attention to.