Challenge Fund: Skateboarders from Czechia teamed up with Zambians to build a state-of-the-art skate park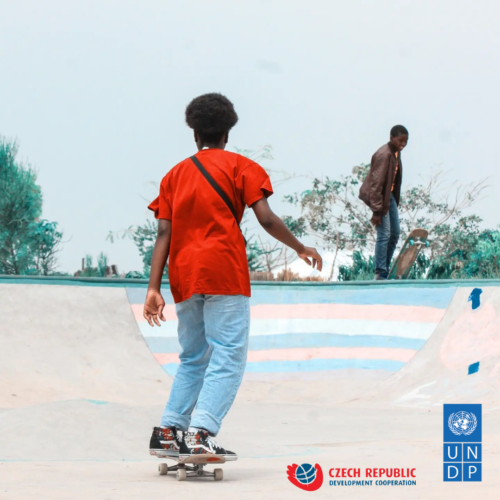 "In skateboarding we learn that it is necessary to fail thousand times in order to succeed once, we learn that nothing comes for free and we also learn that together we are stronger than alone." says Martin Loužecký, member of the Skate World Better NGO who has recently completed their project Youth Community Centre in Mongu, Zambia.
Since last year, the Czech-UNDP Partnership's Challenge Fund extends its activities to two African countries. Today, we bring you an interview with Matouš Bém and Martin Loužecký from the Skate World Better NGO who won the Challenge Fund award for their project in Zambia and Johnny K Kalenga, the founder of the local project partner WeSkate Mongu.
Can you tell us about "Youth Community Centre in Mongu, Zambia" project and what role Skate World Better has in its realization?
Martin: Our project is a result of joint effort of three key parties where Skate World Better (SWB) plays a role of a coordinator behind the entire process. The centre itself consists of a small house and an adjacent skatepark where skateboarding among other activities can be practiced. The construction is put together by international volunteers united under an independent international organization Wonders Around the World (WAW). Upon completion, the centre will be run by a Mongu based grassroots organization We Skate Mongu (WSM).
Matouš: To put the story together, Martin Loužecký, the founder of SWB is a skateboarder and africanist who met key members of WAW and he learned a lot about construction work. Being passionate about Africa and skateboarding, he followed the idea of building community centers with skateparks as a form of development help. SWB was finally founded in Copenhagen by three students, who later organized the first project in Maputo, Mozambique. Some members of WAW were present to this project and that is how the future partnership started. Mozambique was a success – both for Maputo itself and internationally. Later in 2020 SWB grew over new members who gave their soul to the idea of supporting children across Africa, as they will become the new face of the continent within one or two decades.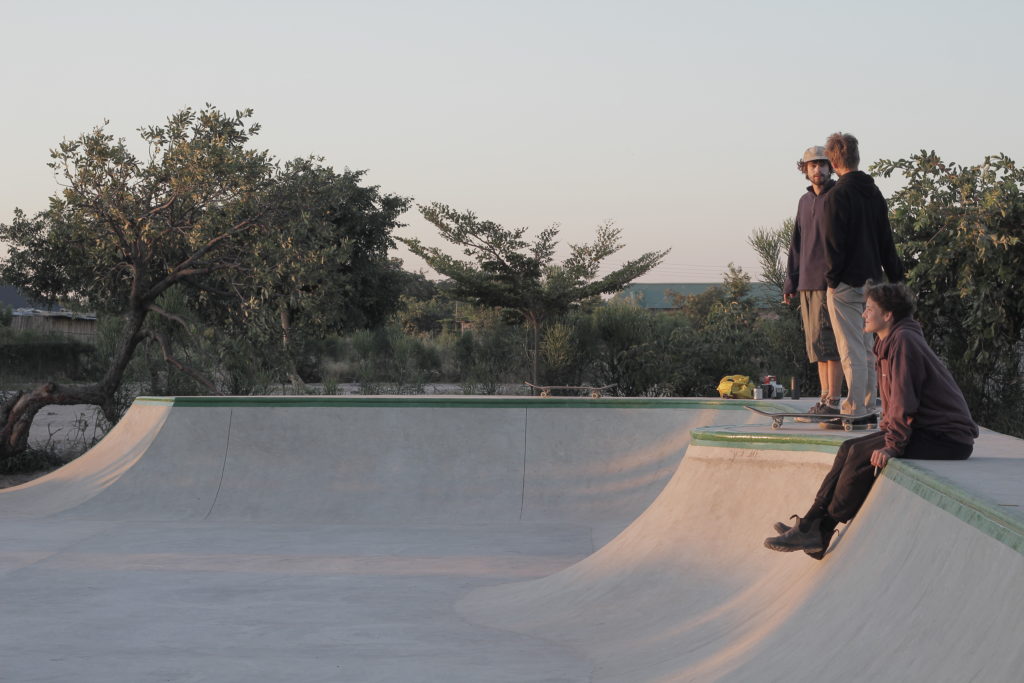 Martin: SWB spent months researching for opportunities when we learned about the great work of Johny Kalenga, the founder of WSM and we decided to work together and complete a project here in Mongu. SWB managed to obtain a generous grant from the Czech-UNDP Partnership for SDGs and the process of planning has started right away. After a year of bureaucratic work we ended up in Mongu with 24 international volunteers, who worked on the construction of the centre. And SWB…. well SWB made sure all materials and permissions are in place and everybody enjoyed the work.
And how did you start Johnny?
Johnny: I learnt how to skate through a friend's skateboard and for 2 years I would always go to his place to learn how to push. After I taught myself how to I forfeited my lunch money for entire semester and raised enough to buy a skateboard. From then I started teaching random kids in my community how to and they got so interested in the sport. Because we didn't have enough equipment and using one skateboard for 2 years kids started making their own from planks and suitcase wheels. We started seeking for donations from the skate community and they started helping us with equipment and the rest is history.
What are the main challenges that local kids and teenagers are facing?
Matouš: This is a very difficult question as we are not really in a position to understand everything. However, it's striking to us to see the local children to have so little space to enjoy themselves. Through boredom many of the local children seek new adventures in drugs, alcohol or criminal activities that may bring excitement, but also very negative reference in the future life. We believe that for the children to have a safe environment where they can spend quality free time is very important for their future activity.
Martin: We come from a different environment and we are used to never ending opportunities. Every African country is specific, but generally access to education is not a given thing. What we do is also an attempt to bring education to those who can not afford to go to school. Playing and learning is a very very strong duo.
So you are saying that skateboarding is much more than just a sport?
Martin: As I mentioned above, it is safe to say that people learn through playing. Skateboarding in particular is a discipline that brings valuable life lessons. In skateboarding we learn that it is necessary to fail thousand times in order to succeed once, we learn that nothing comes for free and we also learn that together we are stronger than alone. Skateboarding is an individual sport, where everybody challenges only his/her own mind, but usually it is done collectively among friends.
Martin: It is very easy to say that the biggest challenge of the local skateboarding community, that is surprisingly very strong thanks to Johny, is that the only place where they can skate is the streets.
Matouš: It's also not surprising that most people in Mongu, including the police are not in favor of this. The streets are crowded and the local skateboarders are sometimes even persecuted for doing what they love. Just the other day, we were at a bridge over Zambezi river when a small kid didn't manage his skate, fell and the board slowly went across the street. A guy ragged from the car wanting to beat the kid. The worst part is that the people drive around here at like 30 km/h maximum so he stopped, nothing happened to the car… Luckily there was Johny who put stop to this.
Martin: Of course we are doing something for the skateboarding community since they will have a safe and professional space to practice their skills, but more importantly we do this for the children. Our goal is to tackle the challenges that the youth is facing, not only the skateboarding subculture.
How does the project contribute to overcoming those obstacles?
Martin: Skateparks provide the youth with the opportunity to create real organic friendships that transcend nationality, class, religion and cultural background. Skateboarding teaches you that in order to succeed – you have to fail. You have to push yourself into the unknown and to the limit of your capabilities in order to master something one day. Skateboarding teaches you about life about self development, self discipline and creativity. There is no better way to obtain that than through having fun with your friends. In other words, the kids grow up together doing something they can enjoy and support each other while doing it. We believe this will have a positive impact later on the adult society. Generally though, our idea is to bring something exciting to the town of Mongu.
Matouš: There is only one condition to the free play. Every now and then the kids will sit down and listen to our partners, who will use the skatepark as a platform for their activities. Through this, the children are exposed to education of all kinds, preferably fitting the local context. Generally, Africa is known for the youth bulge phenomenon which means that around 50% of the population of the given country is younger than 15 years of age. Many of these children have no access to proper knowledge about sexual health, about money literacy or other important life knowledge and they have no means of getting it, so we try to do something about it.
What are the reactions of locals? How is skateboarding perceived in Mongu?
Martin: Locals have been expecting this project for a year now because news spread very fast in small town like Mongu and everybody knows Johny here! Mongu is quite known for being a "skateboarding" city, so the entire country knows about what we are doing here now. The founder of skateboarding association of Zambia, Elijah Zgambo was also here with us. We have a true support of the community.
Johnny: All the locals are really excited by the park parents are calling me to enrol their children into my classes. They are happy that there is a recreational centre in a neighbourhood that is not really favourable for children. All the kinds are always at the park and staying away from trouble, we are no longer skating in the busy roads so the whole town is really glad.
Matouš: We were even approached by Czech and local media channels and were lucky enough being live broadcasted in one of the TV stations!
That really sounds great! So everyone gets involved? Are girls part of the local Skateboarding Culture?
Martin: Surprisingly, the local community is very equal. There is perhaps even more girls than boys skateboarding in Mongu! Although more and more girls skate around the world, it is always a nice surprise to see a skatepark which has more girls skating than boys. Maybe Zambia will push this to yet another limit.
Matouš: It also needs to be said that we have many girls among our volunteers. Without their help we would not have been able to do what we do. Construction might seem like a men's work, but really it is not.
Did everything go well once the project implementation started?
Matouš: Of course we had a lot of setbacks. But this is only natural. It is a big project and a lot of things and people need to be managed. It is important to stress that in just a couple of months we managed to do something amazing. Every day flies extremely fast and challenges come and go. If it wasn't for Johny and his contacts things wouldn't be as easy. Mongu is a small town and everybody was asking questions about what we do. When we explained, we always heard words of support and respect and it was always very nice to listen to.
Johnny: Working with SWB has been amazing, really amazing and kind guys. Very professional and friendly, they have been kind to everyone and the entire community loves and respects them.
Martin: Also, the way we work is that we try to give the strongest spark possible to an already existing initiative (WSM in this case) and we create the workspace for them. When we are done, we monitor and try to give as much outside support as possible, however we never insist on the rules and we never implement our own programe. In our opinion it is impossible to know better than the young leaders that we aim to support therefore we leave it to them with a full trust. Trust, above all, is the most important thing in these sorts of projects.
Thank you all for your answers and good luck with your next adventures.
About the Challenge Fund
The Youth Community Centre in Mongu, Zambia Project received funding from the Ministry of Foreign Affairs of the Czech Republic. Via the Challenge Fund, the Czech-UNDP Partnership for SDGs brings innovative solutions from the Czech Republic's private sector, NGOs, universities, state institutions, research centres and individuals to tackle specific developmental challenges in the priority countries.
The content of this material does not necessarily represent the official views of the Ministry of Foreign Affairs of the Czech Republic, or of the United Nations, including UNDP, or UN Member States.