World Bee Day: Thanks to modern innovation, we no longer need pesticides to protect bees from the Varroa mite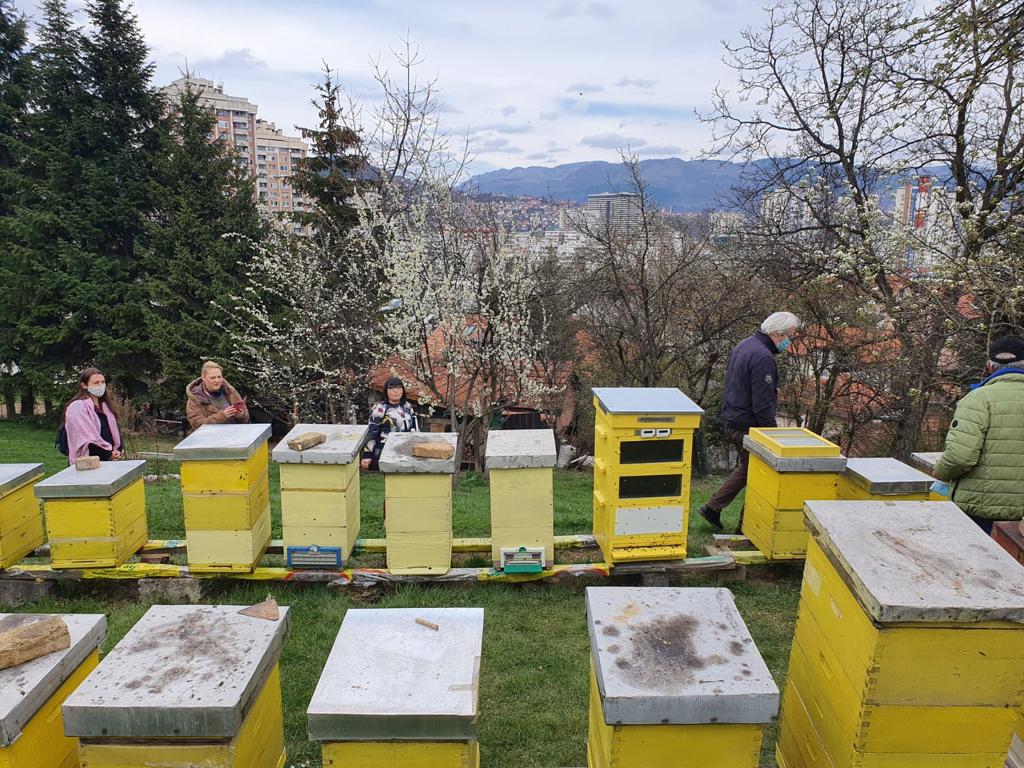 The UN designated 20 May as the World Bee Day to raise awareness of the importance of bees around the world. One of the biggest challenges of beekeepers today is the Varroa mite that attacks honeybees inside their colonies. The innovative Thermosolar Hive kills the Varroa mite using heat generated by solar energy without the need for pesticides and chemicals. The unique Thermosolar Hive developed by Czech innovators and beekeepers is now being tested by beekeepers in Bosnia and Herzegovina and in Georgia as part of the Challenge Fund project.
We were joined by Mr. Jan Rája from the company APIS, which developed the Thermosolar Hive. Mr. Rája kindly agreed to share with us his views on contemporary beekeeping and his experience form two recent Czech-UNDP Partnership projects in Bosnia and Herzegovina and Georgia.
What would you say are the main challenges that bees are facing today?
Well, there are many issues and threats that can harm bees. From inadequate care caused by the lack of experience of some beekeepers to the destructive impact of pests. These pests are often not a native species to the area but were brought in with human activity. At APIS, we have experience from the Czech Republic, Georgia and Bosnia and Herzegovina (BiH) and I can say that in Georgia and BiH, the main problem is the Varroa destructor mite.
This parasitic mite, which originally comes from South East Asia, has spread around the world in recent years. Once brought into the hive, it has the ability to exterminate a whole honeybee colony.
How can people protect bees?
The traditional way has been to kill the mite with pesticides and chemicals. Beekeepers are using pesticides and acids to fight the Varroa mites, but we often see that the chemicals used are becoming increasingly ineffective as the parasite has developed resistance towards them. And there is also the issue of using chemicals in a beehive which may in some cases have negative impact on the bee colony and honey they produce.
On the other hand, research shows that the mite has lower resistance to the heat than a honeybee and this is where our innovation comes to play. The solution that APIS has worked on is our own and unique Thermosolar Hive. In these special hives, once infection is detected, the temperature can grow high enough to kill the mite without harming the bees. The hive is powered by solar energy making it an ecologically friendly solution. This way, beekeepers are able to protect their hives and produce healthier honey without using chemicals and pesticides.
You have already implemented this solution in two Czech-UNDP Partnership Projects in Georgia and Bosnia and Herzegovina, can you tell us more about your activities there?
Yes, in 2020 we brought 14 Thermosolar Hives to Georgia and 6 to Bosnia and Herzegovina. But the projects are in many ways different because beekeeping in the Caucasus and in Balkans is very different.
Beekeeping methods in Bosnia and Herzegovina are in fact closer to how we do things in the Czech Republic. This is caused by relative proximity and similar methods being developed in late 19th and early 20th century. In Georgia, on the other hand, the beekeeping methods are a bit different. Georgia has a very old and impressive tradition of beekeeping. I must say it was very interesting for us to exchange experience and tips with Georgians. As beekeepers, we learned about many differences and similarities during both projects.
Also, both projects had different partners and objectives. In BiH, the Beekeeping union of Sarajevo is specialised on beekeeping, while our Georgian partner Sun House was a technological company who happened to have a very good connection to local beekeeping community. In both cases we had a great exchange and our project attracted attention of beekeepers across each country.
We were glad that we could share our experience with the ecological way of protecting bees from the Varroa mite using the Thermosolar Hive, which is a new method both in Georgia and Bosnia and Herzegovina.
Clearly, your cooperation went very well. Could you share with us your plans for future?
We stayed in contact with our new beekeeping colleagues in both countries. In Sarajevo, we are working on the honey quality control tools and methods, which are lacking in many places in BiH. In Georgia, we now plan to cooperate with the new Multifunctional Regional Beekeeping Centre in Tbilisi. In conclusion, there is always a lot of work around bees.
Thank you Mr. Rája
About the Challenge Fund initiative
Both the Transfer of Modern Beekeeping Tools Project and Know-How in Georgia and the Transfer of Modern Methods in Beekeeping project were part of the Challenge Fund initiative. With funding provided by the Ministry of Foreign Affairs of the Czech Republic, the Czech-UNDP Partnership's Challenge Fund brings innovative solutions from the Czech Republic's private sector, NGOs, universities, state institutions, research centres and individuals to tackle specific developmental challenges in the priority countries.
A new call for Challenge Fund proposals will be announced soon! To stay updated, follow the Czech-UNDP Partnership on LinkedIn.
The content of this material does not necessarily represent the official views of the Ministry of Foreign Affairs of the Czech Republic, or of the United Nations, including UNDP, or UN Member States.